---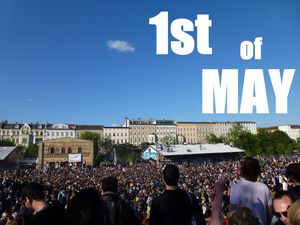 As in France, Germans celebrate the first of May, especially when it happens the sunday. It is the occasion to enjoy a sunny day as a moment for social revendications. Indeed, there is a lot of people in the streets, mobilized to affirm their strong reject of the nazism and all other forms of totalitarisms. To avoid a riot, many policemen are so present and control the crowd, in the subway as in all the city. However, each year the dogfights are inevitable and many residents go back home with bruises, despite repeated warnings from law enforcement.
In my case, I preferred to take part in an open-air party, rather than attempting a discussion with the police. Coming from a small sandy road, I could not expect such a large gathering intergenerational and intercultural. Mesmerized by the music minimal lavished by a local DJ, individuals of all ages mingled as worn by the same fervor. For nearly four hours, the bodies danced in bright sunshine despite temperatures dropping gradually. Around eight o'clock we started to put in road crossing the path of many street artists, punks, hot dog sellers, local residents still shaking his head and obviously the police.
We would have liked to continue our journey, going from place to place, in hazardous atmospheres, but the fact is that despite a night that seems eternal, public transit stop at one o'clock in the morning. Whatever, this day will remain one of my great experiences in Berlin.